Vol. 71, No. 4 (2020) Eleventh Circuit Survey
Editor's Note
Each year, the Mercer Law Review publishes its Eleventh Circuit Survey as its last book of each volume. The Survey covers a set of topics in federal law that are new, emerging, or in some way noteworthy to the legal community.
This year was not your average year though. Unfortunately, about half way through this Spring 2020 semester, the world as a whole was met with a new challenge, Covid-19. This was both an unexpected and unusual change for the Mercer Law Review. Nevertheless, due to the outstanding contributions from our authors, and the dedication of our Mercer Law Review members, the Survey is still being published this year, on time and in normal form.
I would like to thank all of our authors. Having the survey published this year could not have been possible without their help both as authors and in navigating the pandemic. I would also like to thank our Editor in Chief, Samuel Lyon, for his leadership this year, and our Managing Editors, Jordan Elliott, Mallory Fleming, and L'Zandra Jones, for their dedication and editing expertise. I would also like to thank my family for the amazing amount of love and support I have received from them.
I would like to finally thank each and every member of the Mercer Law Review for all they have done this year. Specifically, I would like to recognize Christina Murray, Brianna Stanley, Jameson Fisher, and Caroline Walker; their student works are featured in the Survey. This semester was everything but normal. In the end though, the exceptional team work and commitment shown by each member and author made this volume a success.
—Jackson A. Griner,
Eleventh Circuit Survey Editor
Front Matter
Survey Articles
Comments
Casenotes
Table of Cases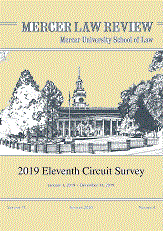 BOARD OF EDITORS

---

Samuel M. Lyon - Editor in Chief
Jordan Elliott - Senior Managing Editor
Zan V. Jones - Managing Editor
Mallory Fleming - Managing Editor
Carley Hawkins - Georgia Survey Editor
Maia Middleton - Lead Articles Editor
Christopher Wages - Articles Editor
Jackson Griner - 11th Circuit Survey Editor
Dan Nix - Student Writing Editor
Shadaisa Wilcox - Administrative Editor
Covering the period Jan. 1, 2019 to Dec. 31, 2019